12 Days of MY Birthday (Day 6)
Dec 12
December 12th — Day 6 of  the 12 Days of MY Birthday…
I didn't feel so well when I woke so I decided to take it easy. Someone gave me a credit at Big Fish Games dot com so I could get a game Westward IV: All Aboard!!! YAY for games and free credits to play them! =) I have played the three previous versions and loved them. They are trouble-escaping fun!
And while I lost myself in my game, my friend decided she would do my housework today! No dishes for me! =) YAY for no cleaning and friends who love me!
Day 6    Westward IV: All Aboard and a "Get-out-of-cleaning" free card!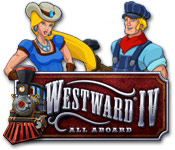 I was so not looking forward to doing the dishes, even if it was my turn, and so excited to find they had come out with a new Westward! So, all fun and games and no dishes makes me a happy birthday girl!
Happy day 6 of the 12 days of my birthday… Thanks to both of you for allowing me to have a really relaxed, fun day 6!